Spaghetti all'Amatriciana
With classic Italian ingredients and a rich history, this unique recipe is one you're going to want to come back to time and time again. Try out Chef Rosario Del Nero's take on this award winning, classic Italian meal with the recipe below.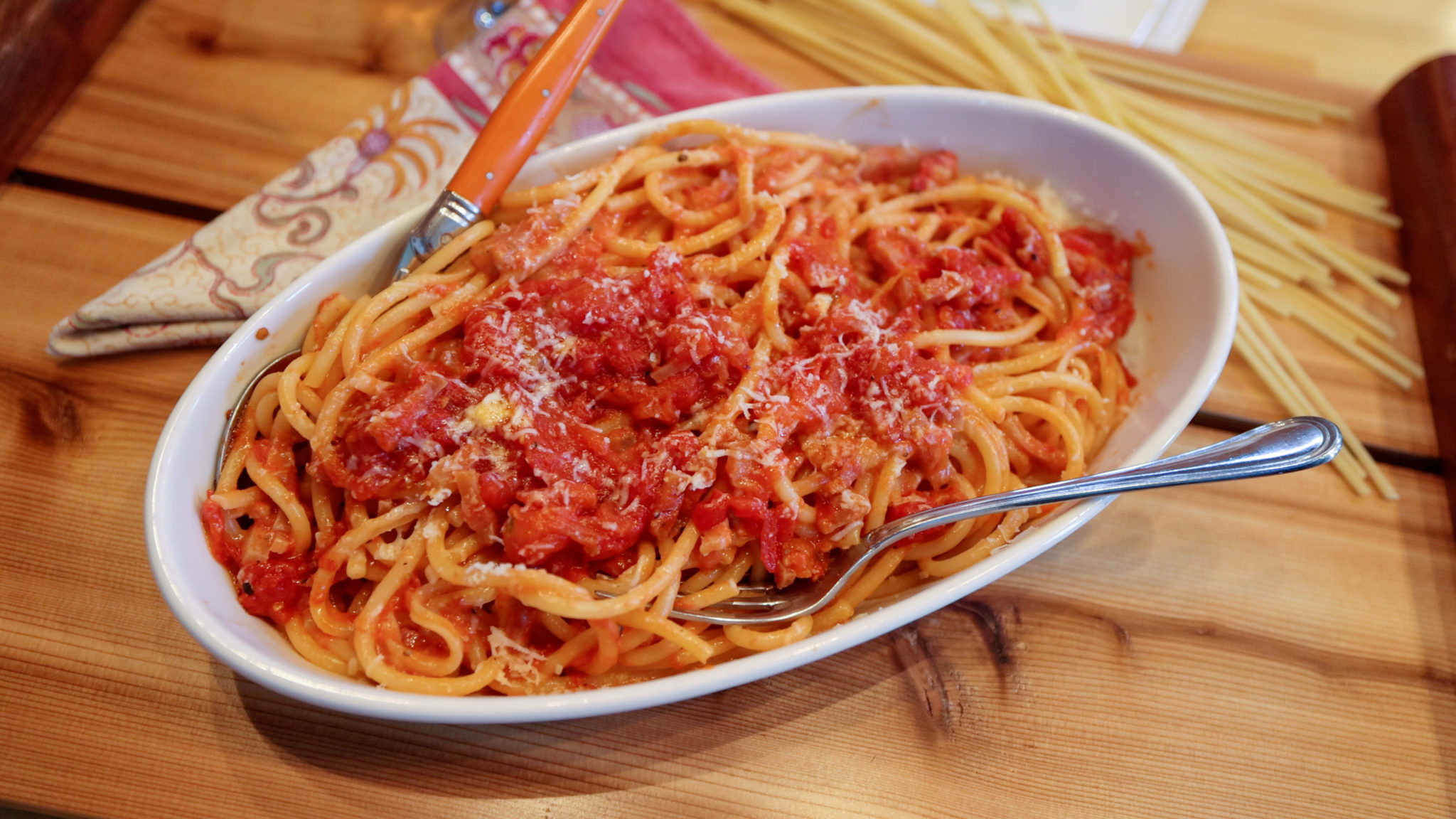 Spaghetti all'Amatriciana
Ingredients
8

oz

good quality spaghetti or bucatini

1

tbsp

extra virgin olive oil

4

oz

guanciale (or pancetta) outer skin removed, sliced and diced

generous pinch of cracked black pepper and/or a pinch of crushed hot red chili peppers

1/4

cup

dry white wine

14

oz

can of San Marzano tomatoes (peeled or crushed)

salt to taste (for pasta water and sauce)

1/2

cup

pasta water

4

tbsp

Pecorino Romano, grated
Instructions
Bring a large pot of water (4 to 5 quarts) toa boil over high heat.

While water is heating, dice the guanciale (orpancetta)

Heat the olive oil in a large, fairly deep sautépan over medium heat. Add the guanciale (or pancetta) and cook for a few minutes, stirring often until it just begins to turn golden, but do not let it turn brown!

In the same pan add black pepper or chili pepper if you prefer.

Add wine to the pan and cook to evaporate alcohol.

Add San Marzano tomatoes, stir and cook for 15 to 20 minutes on low heat, keeping a steady simmer. Stir often with a wooden spoon, breaking up tomatoes as you mix.

Season with salt to taste.

Once the water has reached a rapid boil, add salt and then the pasta. Cook until very al dente (about 1 minute less than the recommended cooking time on package directions).

When pasta is ready, reserve ½ cup of pasta water and drain the rest. Return pasta to the pot, add reserved pasta water and half of the Amatriciana sauce, stirring over low heat for a minute or so, until most of the water has been absorbed by the pasta.

Remove pot from heat and add the Pecorino Romano cheese, stirring until all the flavors are well incorporated.

Transfer to a platter or portion onto individual plates. Top with the rest of the Amatriciana sauce and serve immediately, adding more grated Pecorino Romano if desired.
Recipe Notes
Sommelier's Notes
 The town of Amatrice is located in the Lazio region, but it is not far from neighboring Marche, home to the deliciously intriguing white Pecorino di Offida from Tenuta De Angelis DOCG. Straw yellow in color, Pecorino di Offida is dry with elegant floral notes of acacia and jasmine and heightened by slight hints of spice and minerality.
Despite their names, there is no direct link between the Pecorino grape and Pecorino cheese; while both derive from the Italian word pecora, meaning sheep, the wine grape is so-named because it grows in the mountains where the local sheep graze: Nothing cheesy about it!
Information about this recipe:
In August of 2016 a terrible earthquake devastated the mountainous area east of Rome, hitting the town of AMATRICE especially hard. This town is famous worldwide for lending its name to the popular pasta sauce, Amatriciana.
Preparations for Amatriciana vary: spaghetti are used in Amatrice, while bucatini are favored in Rome. Modern Roman trattorie often add garlic and onions, but the traditional recipe features neither in its flavorful tomato sauce.
After the earthquake, the town of Amatrice submitted its time-honored recipe for approval by the European Union, and in 2019 it received the STG (traditional guaranteed specialty) denomination.
The award-winning recipe features local guanciale (cured pork jowl), local Pecorino cheese…and neither garlic nor onion. The traditional ingredients in the sauce are those used by shepherds who spend the summer months grazing sheep in the mountains.
There is an even older version, also officially recognized, called Pasta alla Gricia, which is an Amatriciana without tomatoes.  Remember that tomatoes came to Europe in the 16th century, so they don't feature in earlier recipes.